Southern California is known for its many amazing beaches and one of the best places to experience them is Orange County. This is not a complete list of all the beaches in the county but these are the best Orange County offers.
San Clemente Beach
San Clemente Beach is great for bodyboarders, surfers, and even those who are simply looking to relax on the sand. It has a nice pier with a fisherman's bars and restaurant on it and a bunch of restaurants and shops across the street as well. Also, you can access the beach through the Metrolink, so you can just hop on and get dropped off right on the beach if you live near a stop. It's a great first introduction to various beaches in Orange County.
Strands Beach
Strands Beach is a beautiful area with a considerable amount of coastline to explore and a lot of parking space. It's one of the few beaches you will find with a funicular. The funicular is a small elevator that runs sideways and takes visitors from the parking lot to the beach. Visitors may also be able to explore some tide pools if they go at low tide.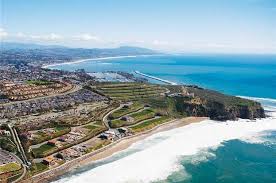 Corona del Mar Beach
This beach has it all; fire pits to hang out by, fun cove area with lots of rocks to climb around on, a large parking lot, and a jetty that gives you amazing views of the beach. Consider stopping by little Corona del Mar if you are looking for tide pools.
Newport Beach
Head up north to Newport Beach if you want a more traditional beach in Orange County. Newport Beach is one of the most popular beaches in the County. It is also a great spot to hang out on the sand with lots of restaurants and a nice pier. It is a great place to hang out during the day and to shoot sunset at the Newport Beach pier. There is also a biking and walking path here that leads to the next beach on our list, Huntington Beach.
Huntington Beach
This beach occupies the last spot on our list of the best beaches in Orange County. It is also one of the county's biggest beaches. The beach has a pier with a restaurant which is fun to eat at. You can head into the downtown area while exploring the beach as it has more shops and restaurants. You can also go to the Pacific City which is a new restaurant and shopping area here. If you want to spend the entire day at the beach, this beach is a beautiful spot for sunset photos.